Dayton Belmont High School, 1964 State Champions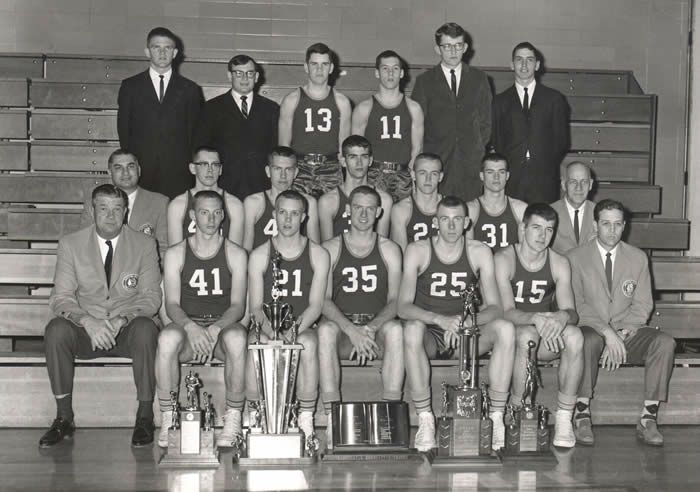 Year Inducted: 2013
Few, if any, Ohio high school basketball teams have had a season the equal of Dayton Belmont High School's march to the 1964 Class AA (big school) championship. Coached by John Ross, Belmont put together a 26-1 record (losing only once in overtime) averaging 82.9 points to the opponents' 55.3 in an era when there were no 3-point shots. The Bison scored more than 100 points four times and scored in the 90s five times. Belmont won their nine tournament games by an average margin of 22 points. The Bison bashed Urbana, 90-64, in the regional final and then crushed Canton McKinley (ranked No. 2 in Ohio) 80-56, in the state semi-final and overwhelmed Cleveland East, 89-60, in the championship game.
The display of passing, shooting, and multiple defenses by Belmont in the final two games is still considered by many to be the best performance ever seen in the state championship. The 65 made free throws in the two game set still stand as a record today. So dominate were the Bison that four of their starters were named to the All State Tournament team. Starters for Belmont were Bill Hosket, Don May, Harry Culbertson, Tim Kenner, and Capt. Ray Ridenour. Hosket (player of the year) and May were the first two players ever selected first team All Ohio from the same team. All five senior starters earned the opportunity to play Division I college ball. The sixth man, junior Ralph Jukkola, went on to captain the LSU squad that featured Pete Maravich. Coach John Ross later became the first ever head basketball coach at Wright State University.
Both Bill Hosket and Don May earned All American status at the collegiate level. Hosket captained Ohio State to the Final Four in 1968 and won a Gold Medal in the Olympic games that same year. May led the Dayton Flyers to the 1967 NCAA national championship game and was the 1968 NIT MVP as the Flyers won the championship. Both Hosket and May were drafted by the New York Knicks and played on the 1970 NBA World Championship team.
View their Ohio Basketball Hall of Fame Enshrinement Video: