Wilmington College
Women's NCAA Division III National Champions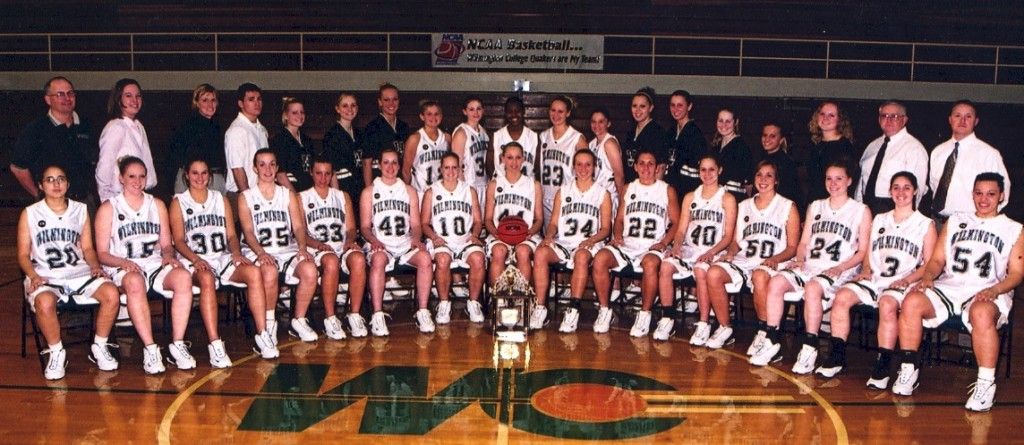 Wilmington College's Lady Quakers didn't look like a team capable of winning a national championship when they finished the 2003-04 regular season with an 18-6 record.
Looks can be deceiving. Coach Jerry Scheve's team caught fire at tournament time and won nine straight games to grab the 2004 NCAA Division III National Championship.
It seemed that the Lady Quakers found new heroes every night. They stormed through the Ohio Athletic Conference Tournament with victories over Muskingum, Capital (which had beaten them twice) and Otterbein, a team that conquered them 10 days earlier.
In the NCAA tournament they knocked off Albion, Franklin, Thomas More, and Puget Sound to reach the Final Four at Norfolk, Va. In the semifinal game, senior center Tara Rausch scored 35 points as Wilmington beat Rochester (N.Y.), 74-63.
Bowdoin (Maine) brought a 30-0 record into the championship game, but the Lady Quakers came from behind late to upset the favorites, 58-51, as freshman point guard Sam Hood made a clutch 3-point shot. Hood had 13 assists and one turnover at the Final Four. Rausch and Amy Kincer made the all-tournament team.