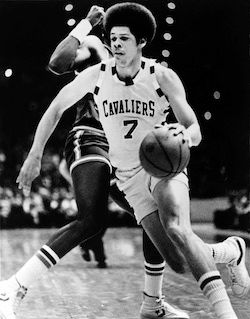 Birthdate: February 26, 1946 
Birthplace: Memphis, TN
High School: Melrose H.S., Memphis, TN (1965)
College: University of Tulsa (1969)
Year Inducted: 2016
Died: October 26, 2023
Bobby "Bingo" Smith fired long, rainbow jump shots long before there was a 3-point line.
Former teammate Dick Snyder described him as a free spirit and a free shooter. "Whenever Bingo got the ball, he was going to find a way to get it up." Snyder said.
Chosen sixth overall by the San Diego Rockets in the 1969 NBA draft, the former University of Tulsa star played one season in California before the Cleveland Cavaliers made him one of the 11 players they selected in the 1970 expansion draft. He earned his nickname "Bingo" while at University of Tulsa, to differentiate him from the two other Bobby Smiths on the roster.
Smith was a durable player in nine seasons with the Cavs. He suited up for all 82 regular-season games four times and for 81 games twice. He played in 865 games and logged 22,407 minutes while scoring 10,882 points, grabbing 3,630 rebounds and handing out 1,734 assists. Cleveland made the playoffs for the first time in the 1975-76 season and Smith added a bit of magic to the season that has become known as the "Miracle of Richfield." With home court advantage already lost and the Cavaliers trailing in their first round series against the favored Washington Bullets, 1-0, Smith and his rainbow jumpers helped Cleveland find a pot of gold. In Washington for Game 2, Smith scored a team-leading 17 points and made the game-winning shot with just seconds remaining to secure the 80-79 victory. The win served as the first playoff victory for the franchise and propelled the Cavaliers past the Bullets and into the Eastern Conference Finals against Boston where they eventually fell in six games. Smith played four more seasons in Cleveland, helping guide the Cavaliers to the playoffs two more times before finishing his career with the San Diego Clippers.
The Cavaliers thought enough of Smith to retire his #7 jersey. His jersey went to the rafters on December 4, 1979.