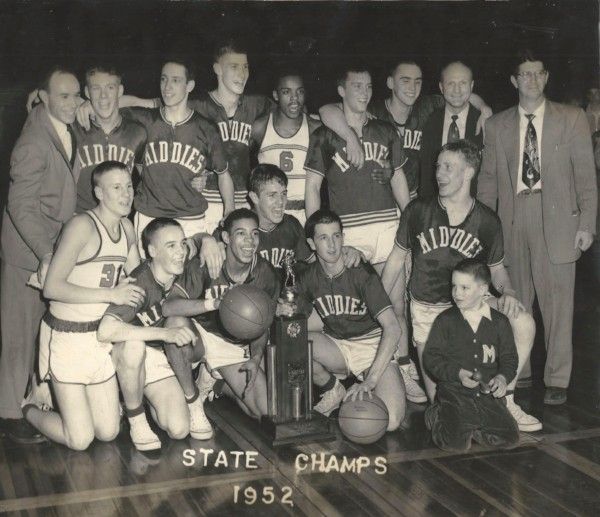 1951-52 Middletown Middies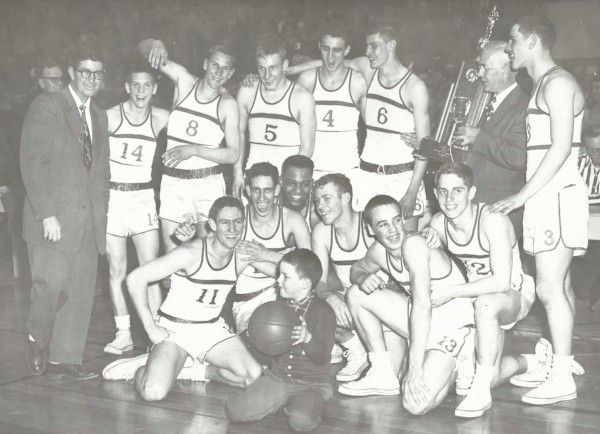 1952-53 Middletown Middies
Middletown High School had some great basketball teams in the 1940s and 1950s. In a span of 15 years beginning in 1944, the Middies made it to the state tournament nine times.
They won the Class A championship seven times under three different coaches – Roy Green (1), George Houck (1) and Paul Walker (5).
The Butler County school won back-to-back titles in 1946 and 1947, in 1952 and 1953 and in 1956 and 57 with the great Jerry Lucas at center. The Middies took a 76-game winning string into the 1958 semifinal but were upset by Columbus North.
While the Jerry Lucas-led teams have already been honored by the Ohio Basketball Hall of Fame, the 1951-52 and 1952-53 teams are the ones being inducted in in 2019.
It was in 1951 that Paul Walker decided to put aside his deliberate style of play in favor of an up-tempo game featuring running and pressing. The Middies reacted well to the change by taking a 25-1 record into the tournament, their only loss being to Hamilton by three points.
Middletown's starters were seniors Dick Vice and Don Barnette, juniors Cliff Hafer and Tom Dillman and sophomore Owen Lawson.
The Middies breezed through four games in the district tournament in Dayton and whipped Cleveland St. Ignatius, 58-41, in a quarterfinal game in Columbus.
Then they trounced Cincinnati Withrow, 67-48, in a state semifinal as Vice scored 31 points to set up a showdown with No. 1-ranked Steubenville (28-0) in the championship game. In the final it was Middletown, 63-53, as Barnette guarded Steubenville star Bill Ross and held him to five points.
Three starters – Lawson, Hafer and Dillman – returned for the 1952-53 season and were joined in the starting lineup by junior Eric Back and senior Ed Payne.  That team finished the regular season with a 16-2 record and would finish with an amazing average of 79.8 points per game.
Wilbur Wright gave the Middies an unexpected tussle in a district game after falling by 44 in their regular season meeting, losing by only seven points, but Middletown handled Roosevelt and Stivers easily while advancing to the regional.
Cincinnati St. Xavier center Al Sicking, later a star at the University of Dayton, scored 34 points in the Middies' first regional game, but Middletown won, 76-56. Tecumseh, with Miami University-bound center Wayne Embry, was the next victim and the Arrows were overwhelmed, 76-42.
Middletown's opponent in the state semifinal was Cleveland St. Ignatius, and the two teams were tied at 33 at halftime. Then Eric Back sparked the Middies to a strong second half, finishing with 22 points, as they won, 75-63.
Newark, Middletown's opponent in the 1953 Class A championship game, tried to slow the pace of the game, but the Middies were much too talented and pulled away to a 73-35 victory. Owen Lawson led the Middies with 21 points.
It remains the largest margin of victory in Ohio's big school championship game.
Of the 12 members of the teams that won back-to-back championships, nine of them played both years. Vice and Barnette were the leaders of the 1952 champions. Hafer, Dillman and Lawson were starters on both teams. The starters of each team went on to play basketball and/or football in college and they all graduated.
Six of the seven starters from both teams played basketball in college and the other starter, Tom Dillman, was the starting center on Ohio State's 1954 national championship football team.