Year Inducted: 2020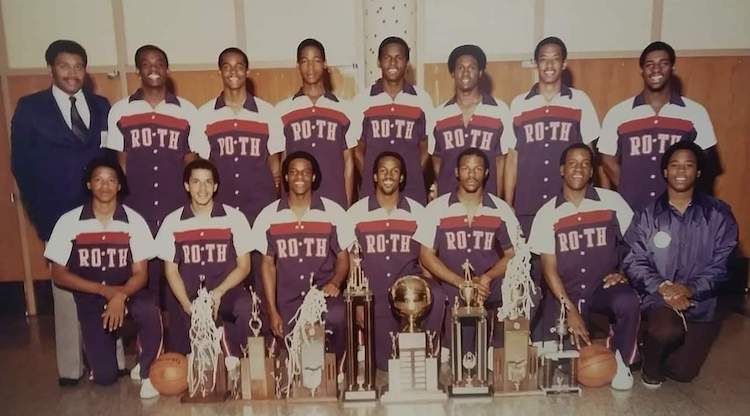 Dayton Roth High School Boys, 1981 State Champs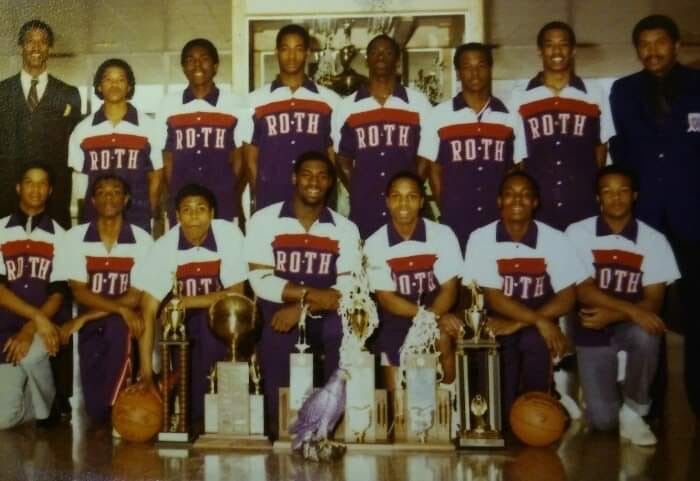 Dayton Roth High School Boys, 1982 State Champs
1980-81 and 1981-82
The success of Dayton Roth High School in the early 1980s was the result of many factors, but the constant was the demand for excellence and intensity of coach Mike Haley.
"He taught us hard work, leadership and commitment, all sustainable skills important in all phases of life," said Mark Baker, who would go on to star at Ohio State and is now the District Director of Athletics for Dayton Public Schools.
With a Hall of Fame-level coach at the helm who believed in using every asset at his avail, Roth displayed a litany of greyhounds that could turn teams over and run them right off the court.
Haley actually set the precedent for his program years earlier when, in 1976, he rotated in all 12 of his players in the state title game and benefited from 40 points from his bench in an 82-81 win over previously undefeated Lorain Catholic. Five years later, it was more of the same.
The 1980-81 Falcons downed Wadsworth 73-66 in the Class AAA title game and a huge storyline was the combined 30 points of offense contributed by nonstarters Wesley Jones and Ricky Lacy. The team finished 26-1 and featured a balanced attack.
Forward/center Fred Johnson and guard William Colston were named first-team All-Dayton Public League, post man Ike Thornton and forward Darryl Murphy made second team, and a fifth senior starter, guard Chuck Taylor, received Special Mention. Johnson also was named second-team All-Ohio.
Johnson (Akron), Colston (Hawaii), Thornton (Texas-Arlington) and Murphy (Jackson State) all earned basketball scholarships; Taylor went to Howard on a football grant.
Roth ushered in a relatively new cast the following year with the loss of seven key players, and the school's sinking enrollment dropped the program into Class AA status. Still, the Falcons managed to return to the winner's circle.
With a young and athletic squad now in the fold, Roth took down Youngstown Rayen in the final, 68-56, and cut down the nets once again. The team included multisport star Keith Byars, who would go on be a Heisman Trophy runner-up as an Ohio State running back. Roth became the first Ohio boys basketball program to produce consecutive state championships in separate divisions – a mark that would not be repeated until St. Henry accomplished that feat in 1990 and 1991.
The 1982 title run included an epic victory over Dayton Dunbar in the district final behind 13 points, 24 rebounds and 13 blocked shots from senior center Robert Maiden. The Falcons overcame injuries to standouts Mike McCray and Byars as 5-8 senior George Sims knocked down six crucial free throws in the fourth quarter and John Bailey, another role player, added four more freebies in the game's final 37 seconds.
Roth took down Urbana in the regional final then rolled to a pair of wins in Columbus, including one over unbeaten and top-ranked Willard. Senior Mike Carton was chosen as the tournament's Most Outstanding Player. He entered states with a team-high scoring average of 25.5 points per game. Steve Smith, a sophomore, was next at 20.2 ppg. McCray averaged right around 13 ppg while Byars scored 11 per contest and led the way on the boards with 13 rebounds a game.
The 1981-82 Falcons, despite having no returning starters, finished with a record of 24-4. Just a few weeks after celebrating those inspiring back-to-back titles, Dayton Roth closed its doors for good and Haley moved on to become the new coach at Dunbar.