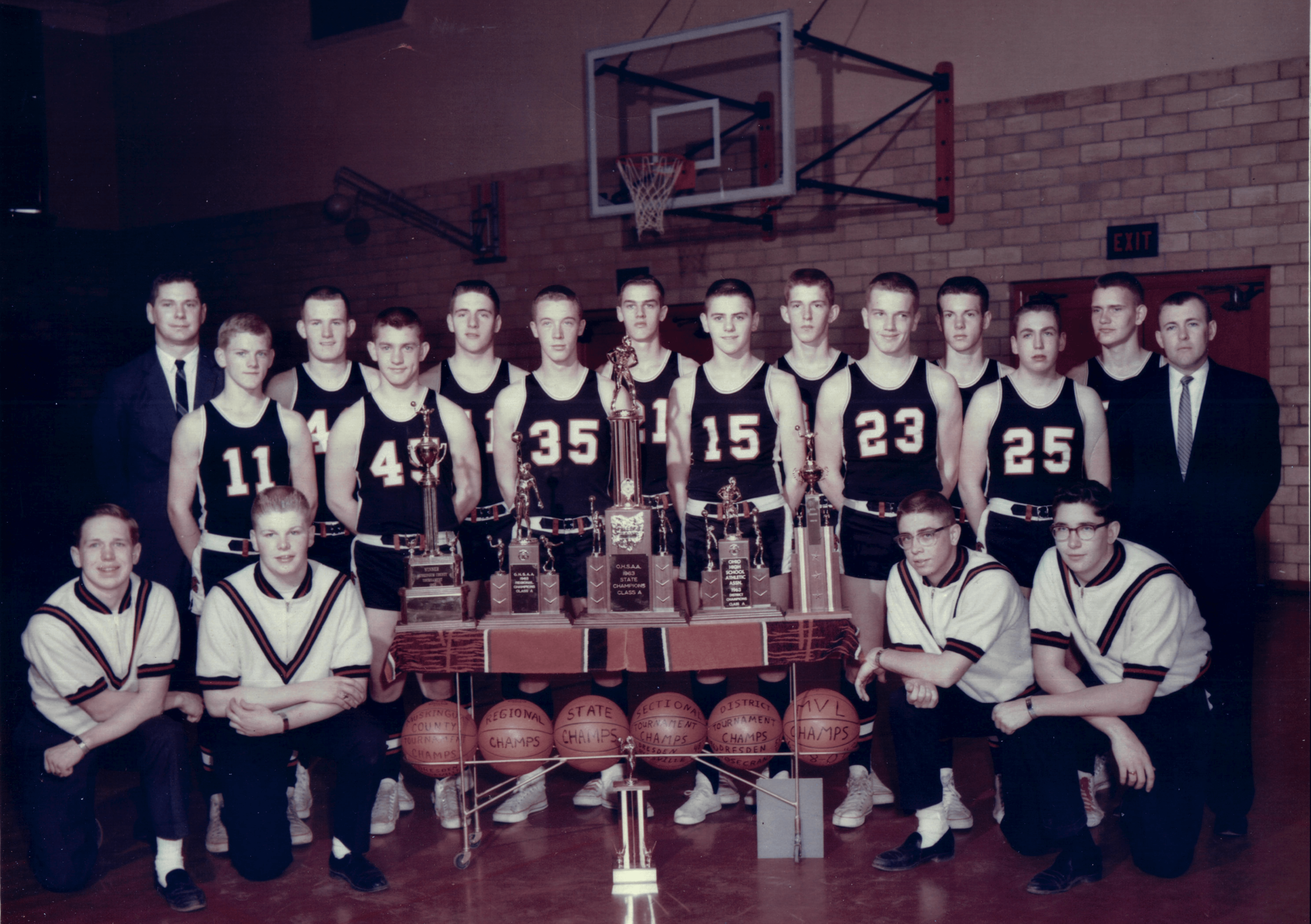 Dresden Jefferson HS 1962-63 State Champions
1962-63 Team 
Heading into the 1962-63 season, you wouldn't have found many people around Ohio who gave Dresden Jefferson much of a chance to impact the high school basketball landscape. In fact, you wouldn't have come across hardly any Ohioans who knew where – or what – Dresden Jefferson was. 
Tucked in the foothills of Muskingum County, Dresden was the epitome of a sleepy Ohio village at the time. It had a population at the time of about 1,400 and there were exactly two stoplights in town. The high school had a total enrollment of 241 students, just 115 of them boys in grades 9-12. Even after the football team roared to a school-best 8-2 season in 1962, expectations were mild for the local cagers. A few short months later, the boys basketball team was cutting down the nets in St. John Arena to celebrate a Class A state championship, ensuring legendary status for a group of overlooked teenagers at a school that no longer exists. 
The Jayhawks rolled to a 10-0 start before a heartbreaking 52-50 loss to league rival Maysville from South Zanesville, but that only emboldened them. They improved to 15-1 to set up another highly anticipated matchup with Zanesville Rosecrans, a private Catholic School from the big city. Rosecrans eked out a 35-33 win in front of a standing-room-only crowd, but Jefferson was now tested enough to enter the postseason with legitimate hope of making a memorable run. 
Fans lined up outside the school for district tournament tickets and some even slept there overnight to secure their seats. In the district final, the Jayhawks destroyed Zanesville Rosecrans in their rematch, 55-33. That set up a dreamy trip to Athens to play in the regional tournament on the campus of Ohio University. Jefferson won both of those palpitating games by the identical score of 55-53. 
After playing in gymnasiums that seated a few hundred spectators, the school was now on display in a basketball palace with a seating capacity of more than 13,000. 
Next up was a date with Springfield Local, and the Jayhawks took down that school by the score of 59-49. With most of the town now in Columbus, Dresden Jefferson became the first team from the area to capture a state title thanks to a buzzer-beating, top-of-the-key jumper by leading scorer Paul Prince that, according to onlookers, rivaled the heroic ending to the movie "Hoosiers." After losing an eight-point lead in the final minutes, Jefferson prevailed 48-46 over Jackson Center to finish off an epic 26-2 season under head coach Jack Van Reeth. 
On a side note, former Glenford High School and Ohio University legend Glen Hursey, considered by many to be the finest athlete ever to come out of Perry County, served as one of the referees for the championship game.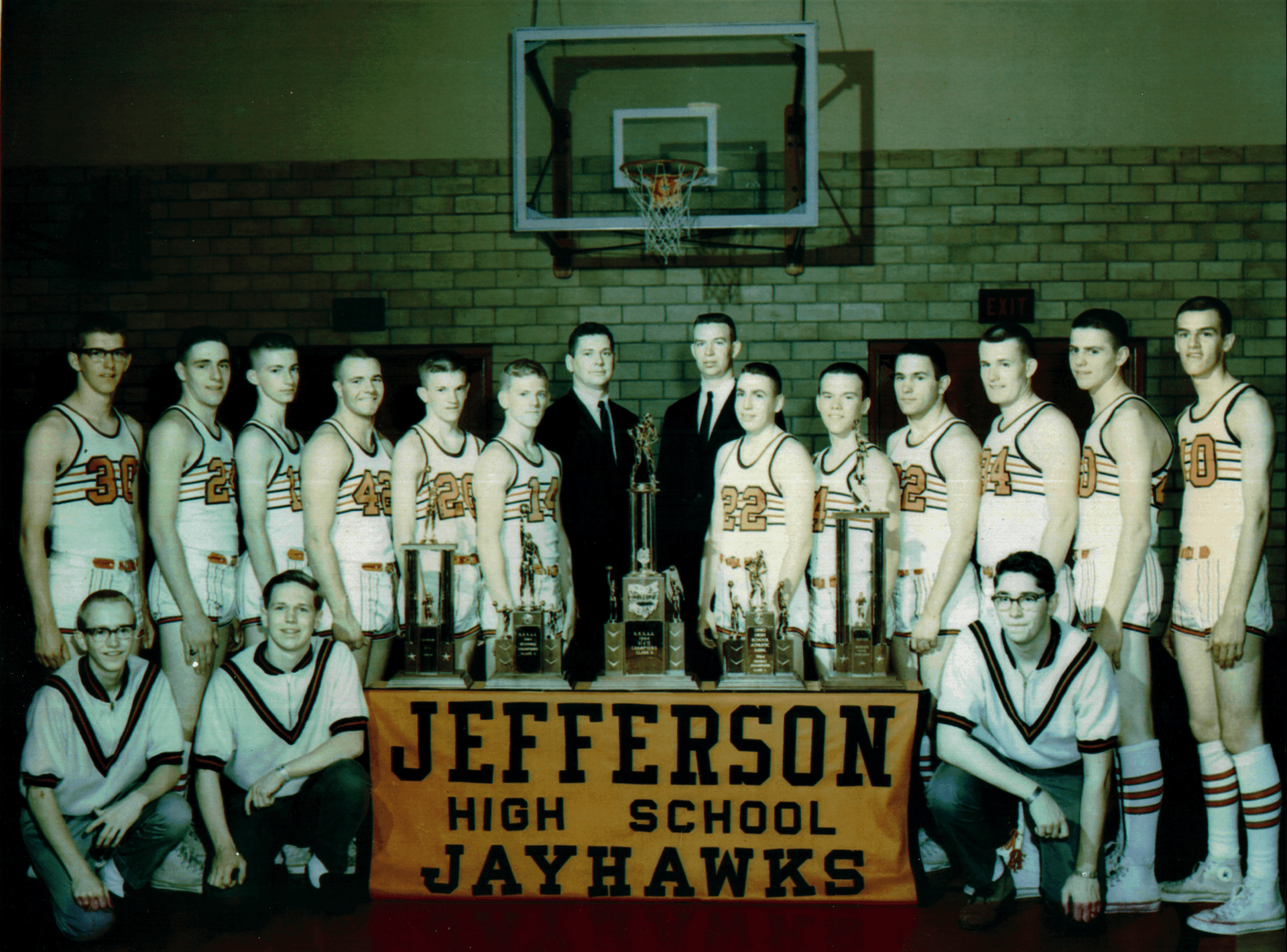 Dresden Jefferson HS 1963-64 State Champions
1963-64 Team 
Perhaps even more improbable was what occurred the very next season. Prince and two other key seniors were departed. So was Van Reeth, who was replaced by his assistant, Rich Longaberger. 
Until the 1963-64 season, only two schools had managed to win back-to-back boys state championships – Bellpoint (1924 & '25) and Waterloo (1934 & '35), both Class B schools at the time. 
A couple of early wins over Frazeyburg launched a positive follow-up season, but the Jayhawks once again suffered their first defeat of the campaign in a matchup with Maysville, a painful 63-42 setback. Also similar to the championship year prior, Jefferson was tripped up by Rosecrans in a 48-31 loss to the Bishops. 
Sure enough, the two squads met again in the postseason, only Rosecrans was the clear-cut favorite this time, rolling to the district semis at 21-0 and ranked No. 1 in the state. Despite the 21-point regular-season win, Rosecrans employed stall tactics, a ploy that backfired. With the scored tied at 17 with just four minutes remaining, Jefferson managed to pull away for a 26-17 victory. 
Once again, the undersized Jayhawks squeezed into the state final four and had to deal with a team, Mogadore, that featured a 6-5 center. Once again, they found the winning formula, posting a 51-50 win. Mogadore missed a potential go-ahead shot with six seconds remaining and had hold of an offensive rebound when Jeff Longaberger, the head coach's brother, stole the ball to seal the victory. 
Now standing in the way was 27-win Celina Immaculate Conception, the second-ranked team in the state, but Jefferson looked the role of the more comfortable and prepared combatant and rolled to a 71-61 win. Jeff Longaberger led the way with 31 points and 17 rebounds to secure a second-straight state title and complete a 25-2 season. 
Van Reeth switched over to coach the high school girls team and from 1984-87, won 109 games and captured three state titles. Rich Longaberger, meanwhile, remained the boys coach for years at the high school, now known as Tri-Valley, won more than 70 percent of his games and returned to the state tournament in 1981.