Owens Community College Men's 1992 & 1993 NJCAA National Champions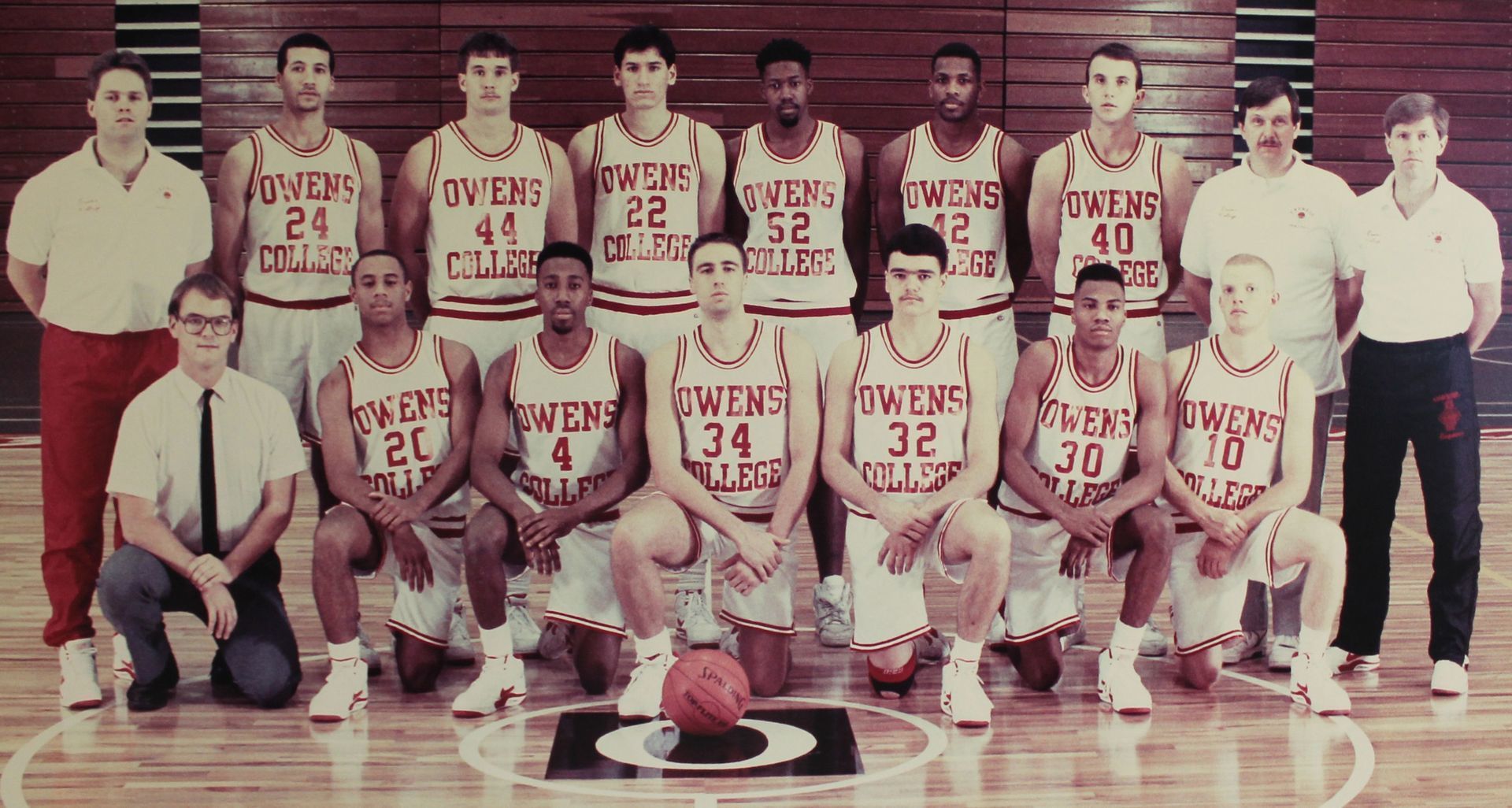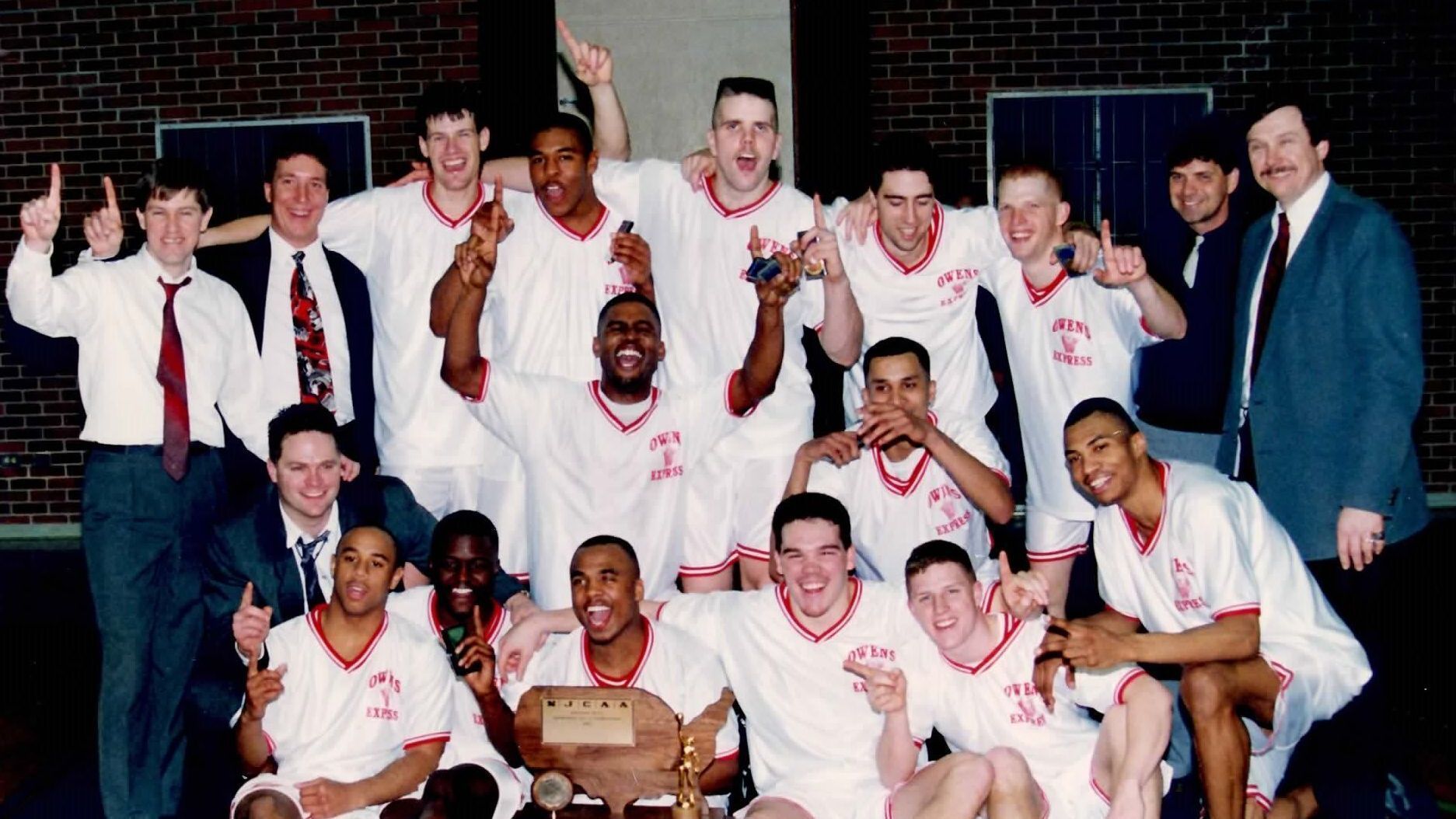 The 1991-92 Team
The 1991-92 team, led by head coach Jim Welling and assistant coaches Curt Connor and Paul Svatik, became the first school from the state of Ohio to claim a National Junior College Athletic Association (NJCAA) National Championship in basketball.
The Express finished 37-2 overall, including a 13-1 record in the Ohio Community College Athletic Conference (OCCAC). On the way to their national title, they claimed the OCCAC regular season title, the OCCAC state tournament championship and the Region XII tournament championship.
In the 97-90 OCCAC state championship game win over Lakeland, Jeff Massey scored a team-high 24 points. He then followed that up with 34 points in a Region XII championship game win over Lansing Community College. Dave Klem, who re-broke his nose in the semifinal, gutted out a 19-point performance with 10 points in the second half to help send Owens to the national tournament for the first time in program history.
The Express then advanced to the national championship game behind wins over Danville and Penn Valley. In the title matchup against Iowa Lakes, Owens completed a 9-0 postseason run with a 105-86 win as they erased an 11-point deficit with eight minutes left in the first half behind a team-high 26 points from Tom Patterson. Massey, who scored 76 points in the tournament's three games, was named the MVP while Welling was named the NJCAA Division II Coach of the Year.
After the dust settled, Owens finished the season with a 101 PPG average. Their lone two losses came by a combined four points while the offense notched 100 or more points in 17 games. On Dec. 13, the Express scored 133 points in a win over Kellogg, which remains a single-game school record along with their 37 total wins.
Massey averaged 27.6 points per game and totaled a school-record 1,047 points en route to First Team All-American recognition. First Team All-OCCAC selection Sean Kirkland finished second on the team in scoring at 14.1 per contest while also averaging a team-best 7.1 rebounds. Patterson chipped in 11.2 PPG, and freshman point guard Jason Wade had a team-best 270 assists. Welling was named the OCCAC, Region XII and NJCAA Coach of the Year.
Massey (2014) and Welling (2019) were both also eventually inducted into the NJCAA Hall of Fame. In addition to that, they were each inducted into the Owens Athletics Hall of Fame along with the 1991-92 and 1992-93 national championship teams.
1992-93 Team
The 1992-93 team won the program's second-consecutive National Junior College Athletic Association (NJCAA) Division II national championship, becoming the first team in the tournament's history to win back-to-back titles.
Led by two-time First Team All-American Jeff Massey and freshman sensation Feisal Crumby Jr., the Express finished 35-1 overall and 14-0 in Ohio Community College Athletic Conference (OCCAC) play. The postseason run began with a hard-fought 86-82 win over Cincinnati State in the OCCAC state championship. Owens then averaged nearly 107 PPG over three contests to claim the Region XII championship, capped by a 118-86 rout of Muskegon in the title game.
In the national tournament, the prolific offense didn't slow down as Owens produced a 103-90 win over Joliet before routing Clinton 97-69 in the semifinals, which set up a 109-85 win over Northeast Christian College in the title game, where the Express broke things open with an 18-5 run to close the first half before Crumby scored 21 points in the second half to prevent a comeback.
The sophomore class, led by Massey, finished 17-0 in postseason play. Massey, who went on to play for Xavier University, averaged a team-high 24.9 PPG for the season and captured his second straight NJCAA Division II national tournament MVP award. Crumby, who shot 14-for-15 from the field for a game-high 37 points in the national championship game, averaged 18.3 PPG and a team-high 6.7 rebounds. Corey Allison, who had 24 points in the title game, also added 13.4 PPG. Both were named to the all-tournament team at nationals.
For the second straight season, Welling was named the OCCAC, Region XII and NJCAA Coach of the Year. He was inducted into the Toledo Central Catholic Hall of Fame in 2020 and his high school alma mater, Eastwood, in 2021. Welling, who's coaching record is 550-127 over 20 years, takes great pride in having 86% of his former players graduate, with 76 of his athletes moving on to NCAA Division I programs. According to Coach Welling, his greatest accomplishments come from his former players off the court, as they continue to impact society and the communities in which they live. Many have gone on to earn advanced degrees, become husbands and fathers, community leaders, entrepreneurs, dedicated employees, coaches, and mentors.