2011 Inductee Mac Otten Dies at 90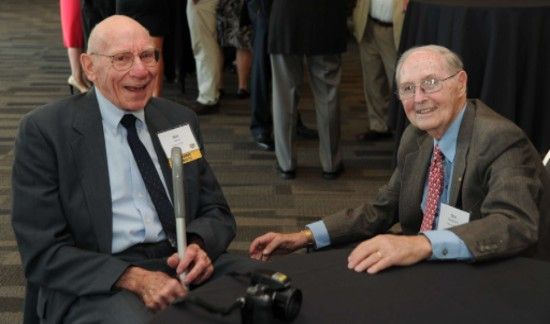 We were sad to learn of Mac William Otten's December 26th death from his daughter Lori. Mac turned 90 on December 16th. He was a key player for Bowling Green State University, having joined the BGSU varsity squad in 1943-44 at the same time his older brother Don Otten was playing for BGSU. Mac was drafted and he left the team in mid-season to answer his call to duty during WWII.

After serving 27 months, Mac rejoined the BGSU varsity squad in 1946 where he was a star for three BG teams that had a combined record of 79-20 and made two appearances in the prestigious National Invitation Tournament in Madison Square Garden.

He was honored to be enshrined in the Ohio Basketball Hall of Fame and supported the organization with generous financial contributions and never missed an Induction Ceremony. His daughter Lori told us after he fell and broke is femur a few days before the 2015 Ceremony, when he woke up in the hospital, the first thing he asked her was if he could make it to the ceremony.

Mac donated his body to Wright State University School of Medicine for scientific study. A memorial service is being schedule for later in January. Mac Otten will be missed by all who knew and loved him.

Read his obituary here.