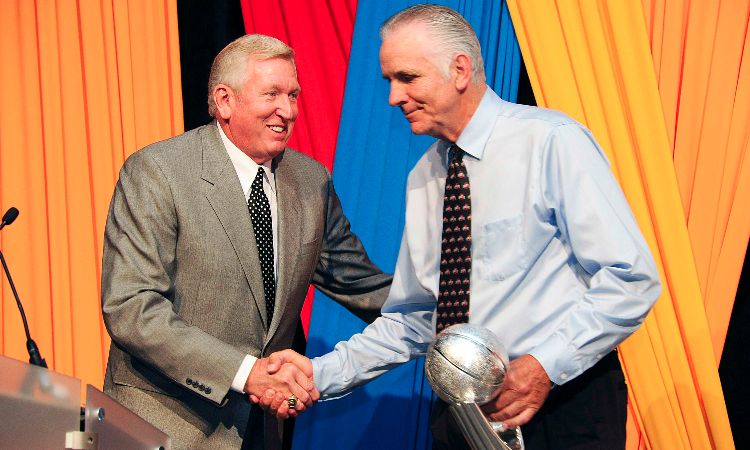 The Ohio Basketball Hall of Fame presented its inaugural Ohio Heritage Award to Jerry Lucas at the 2012 Induction Ceremony on May 19 in Columbus.   The award recognizes a previous inductee of the Ohio Basketball Hall of Fame who has left a mark on Ohio during and after his or her basketball career.
Lucas was inducted in 2006 as a member of the Charter Class of the Ohio Basketball Hall of Fame.  A native of Middletown, Jerry was the first player to win a high school championship, NCAA Championship, Olympic Gold Medal and NBA Championship.  His Middletown High School teams were 76-1.  He was a member of the 1960 Ohio State University NCAA National Championship team and during the 82 games he played at OSU, he had 78 games with double-digit points and rebounds.  He won a gold medal in 1960 as part of the United States Olympic team, considered one of the best amateur squads ever assembled. Lucas started his professional career with the Cincinnati Royals and was a member of the 1973 World Champion New York Knicks.

 "No one has more positively impacted the sport of basketball more than Jerry Lucas," said 2012 Ceremony Co-Chair and fellow Charter Inductee Bill Hosket. "His accomplishments at the high school and collegiate levels are unparalleled."
Although he played over fifty years ago, he is still considered the best player ever in the Big Ten.