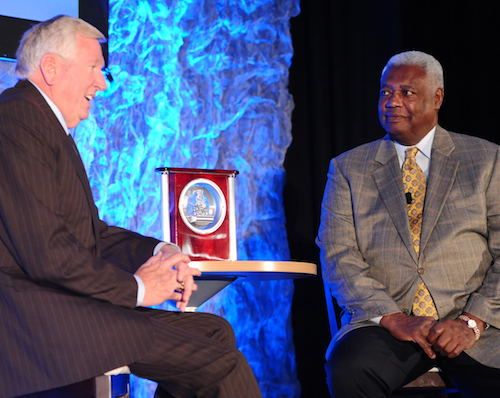 Oscar Robertson was the 2016 Recipient of the Ohio Heritage Award, which he received on May 21 at the Greater Columbus Convention Center. Bill Hosket introduced Oscar, highlighting the many achievements of his career, and then sat down with him to discuss his legacy.

Robertson, also known as "The Big O" since his career at University of Cincinnati, has made an indelible impression on both basketball and American society, on and off the court. He has distinguished himself not only as a superb athlete, some of whose achievements may never be duplicated, but as a humanitarian, a social activist, a businessman, a mentor and teacher, and a labor leader as well.
At every level -- high school, college, the Olympics and the NBA -- The Big O set new standards of excellence and changed the way the game was played. As the first big point guard, who could score from anywhere on the court, pass, rebound, and play defense, he created the template for such players as Magic Johnson, Michael Jordan, Kobe Bryant and LeBron James. He is the NBA's all-time leader in triple-double games (points, rebounds and assists) for a career with 181 and a single season with 41, and in rebounds by a guard. He is the first player to lead the NBA in scoring and assist averages the same season. His record of averaging a triple-double for an entire season (1961-62) is unlikely ever to be broken.
As the third and longest-serving President of the NBA Players Association, from 1965 until he retired in 1974, The Big O changed the game – and the balance of power in professional sports – in the courtroom as well. In 1970 he filed a class action anti-trust lawsuit on behalf of his colleagues, seeking to prevent an NBA merger with the American Basketball Association until issues regarding the reserve clause, the draft, and other restrictions on player movement were resolved. Thanks to a 1976 settlement known as the Oscar Robertson Rule, NBA players became the first to gain free agency. Instead of destroying the game, as the owners had claimed it would, the settlement ushered in a new era of growth and prosperity for the NBA that continues to the present day.
In 1997 The Big O performed the assist of a lifetime when he donated a kidney to his daughter Tia, who was suffering from lupus. Since that point, he has been an outspoken advocate for health and wellness, kidney disease prevention and organ transplantation on behalf of the National Kidney Foundation.

One of the nation's leading small business owners, Robertson heads companies with interests in specialty chemicals; staffing, training and document management; and media production. He holds an honorary doctorate and a Lifetime Achievement Award for Entrepreneurship from University of Cincinnati. Oscar and Yvonne Robertson maintain a scholarship fund for deserving students at UC and also served as co-chairs of the University's recent $1 billion capital campaign.