Six Questions with Bobby Brown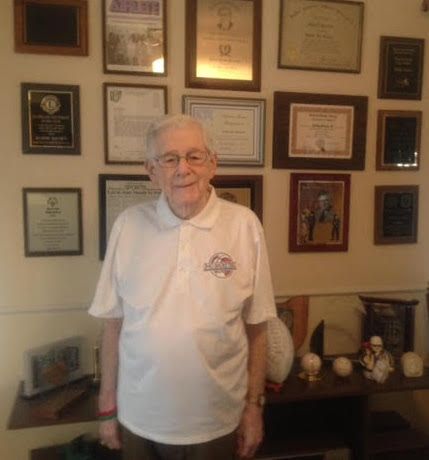 Bobby Brown not only is the first official to be inducted into the Ohio Basketball Hall of Fame, he's also the oldest living member at 96.
Brown hit that mark on July 20, 2015. A few months earlier, he "had every intention" of attending the HOF's 10th Anniversary Induction Ceremony, which included a tribute to the charter class of 2006 of which Brown belongs.
He's still in amazing health for his age, but didn't make the trip down from Parma Heights, Ohio, because of a recent diagnosis of atrial fibrillation.
"I don't like to wander too far away from the ranch," he joked.
A native of Cleveland, Brown graduated from Rhodes High School and Baldwin Wallace College (now Baldwin Wallace University). He went on to serve in the Army Air Corps for three years, earning the rank of captain.
As a basketball and football official, he held many honorable positions. In 1959-60 he was president of the International Association of Approved Basketball Officials. He officiated state championship games in 1960, 1966 and 1971. He was a member of the Parma Board of Education from 1960 to 1967 and served as president in 1964 and 1966.
Brown has been named to several halls of fame as a game official and more than nine years ago, at the age of 86, he accepted his well-deserved appointment into the Ohio Basketball Hall of Fame.
Since then, Brown has moved onward with his familiar personable tone, although his wife of 70 years and 7 months, Dorothy, passed away on June 3, 2014, at the age of 92.
"I miss her terribly," he said. "But we have great, great memories. She was the strong one. I learned a lot from her. I hope I never took her for granted. I told her, 'I love you' at least once every day."
Despite his loss last year, Brown remains as upbeat, sharp and gracious as ever.
Rapp: First off, how are you doing and what has it been like for you to say you are an original member of the Ohio Basketball Hall of Fame?
Brown: "I still feel the same way I did in '06, and that is very humbled. When people come in the house they can see that beautiful trophy. It's still amazing to me to think that I made the Hall of Fame and I went in with people like John Havlicek, Fred Taylor and the fella down in Cincinnati … "
Rapp: Jerry Lucas?
Brown: "Yes, Lucas.
"I remember I said to my wife, 'Holy smokes, how did I get in with that group?' "
Rapp (Question 1): I'm curious about how you started out as a basketball official. Was there anything in particular that drew you to it?
Brown: "Well, I'll tell you. If you excuse the expression, I was a half-assed athlete."
Rapp: (laughs) Yeah, I was one of those, too.
Brown: "I started officiating before the war (World War II) in the church league. The referee didn't show up one night in a Tuesday evening church league. I went into the service in 1942 and was in the Air Force, and I did a little officiating then, but not too much because we kept moving around and we were busy. Then I came back.
"I kept my card up (to date) with the Ohio High School Athletic Association. I paid my dues all the time that I was in the service. I came back in 1946 and made my availability known, and every Friday night I got a game and sometimes on Saturday – and according to some people I became halfway decent. I did sectional tournaments, district, regionals, state championships, and in northeast Ohio I was a rules interpreter for the Ohio High School Athletic Association for about 10 or 12 years.
"At that point and time I was married – I was married in the service – and I was going to school at B-W while Dorothy was working. Many times working amateur ball helped pay for the light, the gas, the telephone, and the food.
"I kept working at it and through that experience I'd like to think I got a little better at it."
Rapp (Question 2): Well, you got so good they assigned you to several important postseason games and a few state championship games. Was there any one game or moment that stands out as particularly memorable?
Brown: "Gosh, that's tough. Over the years I probably worked maybe 10 regionals. I probably worked 20 or 21 years of sectionals and 19 districts. In 1971 I did the first game (of the state championships) on Saturday, which would be either the A or AA. They were all fun.
"Incidentally, Jeff, in 1971 that was one of the best schedules I ever had and I decided to hang it up that year. I was successful but I always said to my wife, 'I'm not going to hang on and hang on and have people say to that I used to be a good basketball official.' I wasn't going to make the coaches and the kids suffer. (laughs)
"I had too much pride and worked too hard to get where I was at so to have that happen. So I just worked some Division III games. I didn't work a Big Ten schedule or a Mid-Am schedule. I was just satisfied doing that."
Rapp (Question 3): How about this then: Is there a team or a player who really stands out through all that time?
Brown: "I've been asked that a number of times. The best high school player that I've ever seen is Dave Demko of (Cleveland) St. Ignatius High School. Dave could do it all – shoot one-handed, left or right, hook left or right. He was an outstanding basketball player. Outstanding. He's still the best high school basketball player that I've ever seen.
"I'll tell you the type of athlete that he was: After he graduated high school he went into the service. Now he never played high school football. But he played on the European team and he made the All-Europe team."
Rapp (Question 4): The game, obviously, has changed a lot over the decades. Are there any changes that you especially like or dislike? Or are you kind of a progressive guy and think it's all good or are there some things about basketball that you miss?
Brown: "Well, the players now are bigger, they're taller, they're faster, they're better. They're better shooters. After I retired from my work, I observed basketball officials at Cleveland State and I worked for two or three of the leagues, and, yes, I enjoyed watching. I did that for 25 years and enjoyed watching the progress. The players have become better and it's fun to watch."
Rapp (Question 5): How did you handle unruly fans or coaches? Were you one of those guys who would cut that stuff off right away or let them go ahead and get it off their chest? How did you deal with that?
Brown: "I had a long fuse. I would tell the coach, 'Look, Coach, you don't embarrass me and I won't embarrass you.' But I did not allow them to jump up and down. Nuh-ah, that wasn't OK.
"I would just tell them, 'OK, I've heard you. I don't want to hear any more.' And I must say, because of my disposition I was never disrespectful to a coach even though coaches get … and you have to understand the type of game. It's up and down, up and down. But I tried to never be disrespectful to a coach.
"I had a long fuse. It took a lot for me to nail them with a technical foul."
Rapp (Question 6): So what do you do to occupy yourself now? You mentioned volunteering. Can you detail for me what that means?
Brown: "I volunteer at University Hospitals Parma Medical Center doing outpatient registration. People come in for X-rays, lab work, pre-admission testing. They have to register in our department and we send them on their way."
Rapp: What about your 96th birthday this summer? What did you do to celebrate?
Brown: "The fellas took me out to lunch."
Rapp: That sounds fun.
Brown: "The support that I've had from my friends since Dorothy passed away has been outstanding. They call me, we go to lunch, we do things. In fact, today the three of us went to a place called Sokolowski's (University Inn) in Cleveland. It's about a hundred years old and nothing fancy but, boy, they have great food. And the people who run it are first-class people. They serve good food and plenty of it."
Rapp: I like those places.
Brown: "People say to me, 'What do you attribute your longevity to?' Well, my dad was 81, my mom was 86. I count my blessings and I thank the Lord every day for allowing me to get up in the morning and do what I do."

Rest in Peace Bobby, you will be missed by so many.

Jeff Rapp is a Columbus-based sports writer who posts several times a week on his website, SportsRappUp.com. He is also a regular voice on the largest AM station in Columbus, 610 WTVN, serving as an Ohio State football and basketball analyst as part of its "Best Buckeye Coverage." He volunteers his time with the Ohio Basketball Hall of Fame as a member of the Strategic Partnership Committee.