Larry Hunter
August 8, 1949 - May 4, 2018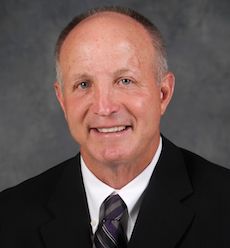 We are heartbroken to share the news that Larry Hunter passed away on May 4, 2018. 

Larry was inducted into the Ohio Basketball Hall of Fame in 2016 and had been a strong supporter of the OBHOF since its inception in 2006. 
Coach Hunter had successful collegiate coaching runs at Wittenberg and Ohio University before becoming head coach at Western Carolina in 2005.
Hired as head coach at Wittenberg in 1976, Hunter immediately was selected as NABC Division III Coach of the Year after the Tigers won the 1977 NCAA national championship. He was the first coach in NCAA history to win a national championship in his first season at a school. In his 13 seasons as head coach, Coach Hunter had a 305-76 record, along with five Great Lakes regional championships, four Final Four appearances, including NCAA Division III National Champions in 1977, the NCAA Division III Runner-up in 1983, and finished third in 1980 and 1987.
Ohio University came calling in 1989, and Hunter coached the Bobcats for 12 years. OU won Mid-American Conference regular season and tournament championships in 1993-94 to make the NCAA Tournament field. He also guided Ohio to the 1994 Preseason NIT Championship. Coach Hunter spent 47 years in college coaching, 38 as a head college coach. In the last year, he became one of only 40 NCAA Men's Basketball Coaches all time to reach 700 career victories. He was the 8th winningest active coach in Division I in 2018.

Our heartfelt and deepest sympathies go out to the Hunter family and all who knew and loved him.
Read Larry Hunter's Obituary
Make a Memorial Tribute to Coach Hunter
Read The Athens Messenger article