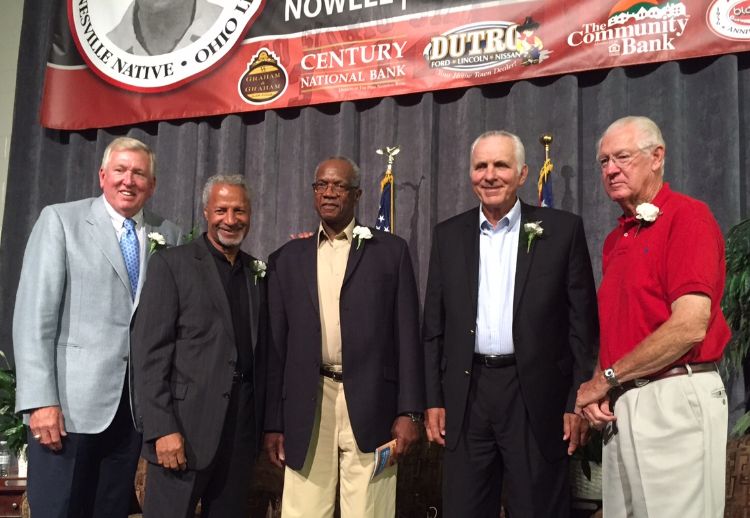 Fred Taylor Court Dedicated in Zanesville
Zanesville - Over 600 people gathering on Thursday, August 27 at the Muskingum Recreation Center to honor native son and legendary OSU basketball coach Fred Taylor. The Center renamed its gymnasium "Fred Taylor Memorial Gymnasium" to honor the man who has done so much for the game of basketball. Taylor died in 2002 at age 77.
The dinner and program featured John Havlicek, Jerry Lucas, Joe Roberts and Mel Nowell, four of the starting five of the 1960 OSU team. (Larry Sigfried is deceased). Sixth man Bob Knight was unable to attend but was showcased in a video in which he reflected on his memories of Coach Taylor. Teammates Dick Furry and David Barker were also in attendance. The evening was hosted by Bill Hosket, who played for Taylor from 1964 through 1968. Each of the men shared fond memories of how Coach Taylor influenced their lives. "It wasn't until after I had graduated, that I learned of all the things Coach Taylor did to make us comfortable," said Mel Nowell, referring to Taylor's insistence that all his players be treated equally while traveling in the south in the late 1950's and early '60. "He wanted us to focus on school first, then basketball, and then whatever else fell into place after that," added Nowell. Of Taylor's 102 varsity lettermen, 97 of them received their college degree.

All of the men on the panel have an affiliation with the Ohio Basketball Hall of Fame - Jerry Lucas, John Havlicek, Bob Knight and Bill Hosket are part of the Charter Class, and the 1960 Team was also inducted as part of the 2006 Charter Class. Executive Director Sheila Fox, Board President Ron Kellogg, and Board Members Gary Walters and Jim Burson, along with his wife Jennifer Lyle, attended the festivities along with Strategic Partnership Committee member Jeff Rapp and 2007 Inductee Glen Hursey. Coach Taylor's wife Eileen and several family members were also in attendance.

Read additional press coverage from the Zanesville Times-Recorder.