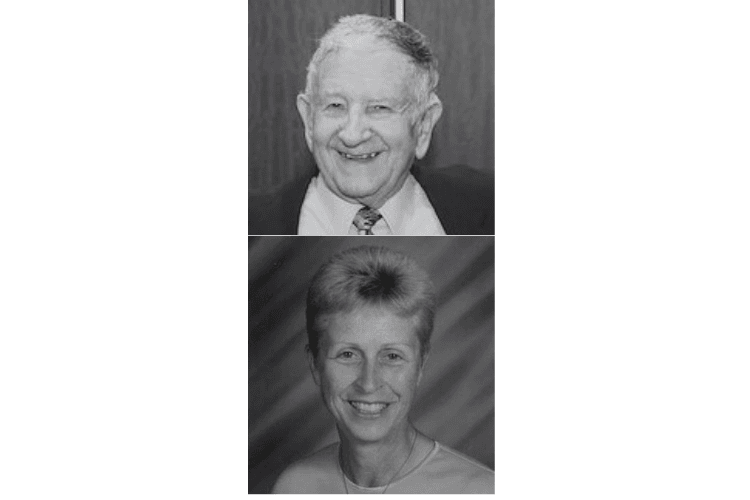 The Ohio High School Basketball Coaches Association (OHSBCA) announced the recipients of the John Wooden Legacy Award for 2022. Harold "Doc" Daugherty, former head boys' basketball coach at Euclid High School and Karen Wittrock, former head girls' basketball coach at Lutheran West High School are the recipients of the award. Both will be honored at half time of the 2:00 pm game on Saturday's semi-final game at their respective Ohio High School Athletic Association basketball state tournaments. (Girls – Sat., March 11, 2023 & Boys – Sat., March 18, 2023)

Doc Daugherty spent 40 years as the head boys' basketball coach at Euclid High School in northeast Ohio. He taught health and physical education for 44 years while serving the community in numerous leadership roles.

Along with his many accomplishments on the court, he served the Ohio High School Basketball Coaches Association as president from 1984-86 as well as chairman of the Gold and Silver Certificate committee which recognizes student/athletes for their excellences in the classroom.
During Doc's 40-year coaching career he amassed a record of 597 wins and 284 losses. He won an amazing 28 sectional championships, 4 district championships, 1 regional championship, 1 regional runner-up, and 1 state semifinalist in 1968. Because of all his success on the hardwood, he has received the following honors: Gatorade Coach of the Year, Paul Walker Award, Bob Arnzen Longevity Award, Golden Deeds Award (GCBCA), OHSAA Recognition Award, National Coaches Hall of Fame inductee (2000)., Ohio University Green and White Coaching Honors, Resolution Commendations from the US Senate (1968), Smaco (1990), City of Euclid (1968, 1995, 1998), and Ohio State Senate (1968,1999). He was named Division I Coach of the Year in 1990. He also served as a coach in the following All-Star Games: Ohio-Michigan, Ohio-Kentucky, Ohio-West Virginia, and Ohio North-South along with many other All-Star games in the Cleveland area. All these coaching accolades helped him earn induction into several halls of fame. Doc was inducted in the Euclid High School Sports Hall of Fame in 2000, the National Coaches' Hall of Fame in 2000, the Ohio High School Basketball Coaches Association Hall of Fame in 2002 and the Ohio Basketball Hall of Fame in 2010. In 2005 Coach Daugherty accomplished one of his greatest feats when he was co-founding the Ohio Basketball Hall of Fame.

Doc graduated from Glenford High School in 1949 with 15 other classmates. After graduation he attended Ohio University where he played varsity basketball for legendary coach, Jim Snyder. In 1954, Doc served in the US Army in Korea as a 1st Lt. in the Medical Corps. After his military service, Doc received a Master's Degree from John Carroll University. He served the American Red Cross as a volunteer teaching CPR for 42 years.

Karen Wittrock taught physical education and math for 45 years at Lutheran West High School in Rocky River, OH.

During her illustrious teaching career, she served the school system in many different capacities. She coached girls basketball for 41 of those years while serving as the co-director of the intramural program for 38 years. She also served as the girls' athletic director for the Greater Cleveland Lutheran Schools elementary league from 1972-2003.
As Lutheran West's head coach, she amassed a coaching record of 628 wins and 198 loses. Her teams captured 22 sectional championships, 7 district championships, 1 regional championship and finished state-runner-up in 1976.
Karen also spent 25 years officiating basketball and 38 years officiating volleyball. During this time, she served the Lutheran Elementary League in her area for 35 years as the Girl's Athletic Coordinator as well as directing the Lutheran High School Girls Basketball camps for 3rd to 12th graders in
the area for 25 years. She has been honored to coach for the Ohio North-South All-Star Game in 1998, to coach for Greater Cleveland Basketball Coaches Association East-West All-Star Game for 2 years and was chosen as Ohio Coach of the Year for 4 years and received Coach of the Year in her conferences for 21 years. Karen coached Track and Field for 25 years and coached the men's golf team for 14 years while starting the women's golf team at Lutheran West
Some of her other honors and awards include receiving the Wegman Outstanding Teacher Award from the Cleveland Lutheran High School Association, the Cleveland SMACO Award (Basketball), the Bob Arnzen Award, the National Outstanding Coach of the Year Award given by the National Women's Sports Foundation, the Northeast District Naismith Basketball Service Award, the Outstanding Basketball Coach and Sportsmanship Award given by GCBCA, inductee into the inaugural class of the Lutheran West High School Athletic Hall of Fame, inductee into the Women's Basketball Magazine Hall of Fame (OHIO), inductee into the Concordia University Sports Hall of Fame in Seward, Nebraska, and inductee into the inaugural class of the Ohio Basketball Hall of Fame in 2006. In 2015, she was also inducted into the Ohio High School Basketball Coaches Association.
She is a 1963 graduate of Morgan County R-II High School in Versailles, Missouri. She completed her undergraduate degree in Math and Physical Education at Concordia Teachers College in Seward, Nebraska in 1967. She participated in 4 sports (field hockey, basketball, softball, and track) while she attended college and received the Athlete of the Year Award in 66-67.
* * * * * * * * * *
The John Wooden Legacy Award was established in 2021 in conjunction with the Wooden family and the National High School Basketball Coaches Association (NHSBCA). John Wooden's legacy as an educator, coach, servant, and leader led to the establishment of this award in his honor. The intent of the award is to recognize high school coaches (boys & girls) from across the country who exemplified the characteristics Coach Wooden displayed during his coaching career and life. The award is given out annually to coaches that best exemplify the traits of education, longevity, character, service, and excellence. Recipients are selected by their respective state coaches' associations and submitted to the NHSBCA for final approval.