Legendary college basketball coach Bob Knight was the keynote speaker at the Ohio Basketball Hall of Fame's 10th Anniversary Celebration and Ceremony on May 2, 2015 at the Greater Columbus Convention Center.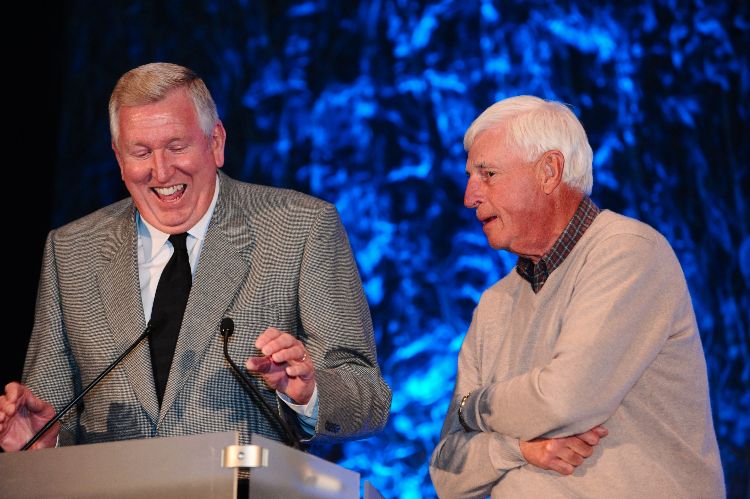 COLUMBUS - Bob Knight, who was among those in the Hall of Fame's charter class in 2006, received the 2015 Ohio Heritage Award, presented to a previous inductee of the Ohio Basketball Hall of Fame who has left his or her mark on Ohio after an active basketball career.
Jerry Lucas, a teammate of Knight's at Ohio State University in the early 1960s, was the recipient of the first Ohio Heritage Award in 2012.
The Ohio Basketball Hall of Fame's number of individual inductees grew to 176 with the addition of 11 men and women who have made outstanding contributions to basketball in the Buckeye state. The seven former players, three coaches and an official were voted into the class that was be was enshrined May 2 at the Greater Columbus Convention Center.
The former players include: John Miner (Ohio State University), Dave Jamerson (Ohio University), Tom Dinger (College of Wooster), Bert Price (Wittenberg), Marlene Stollings (Ohio University), Brooke Wyckoff (Lakota High School) and former Cleveland Cavaliers center Zydrunas Ilgauskas.
Those selected for their coaching success were: Theresa Check (Central State University), Edith Spivey (Cleveland Shaw High School) and the late Al Van Wie (College of Wooster).                                                       .
John Tipton of Oak Hill, the official in the 2015 class, was selected by his fellow officials. All other selections were made by the OBHOF Board of Directors.
Two high school seniors received $1,000 scholarship for their outstanding work in and out of the classroom. Ashton Horsley of Athens High School and Bradley Malott from Middletown's Madison High School were the 2015 recipients.
The Hall of Fame also honored Trever Smith, a sophomore from West Salem Northwestern High School for breaking the OHSAA Single Season Free Throw Percentage record.
Over 525 people attended the 10th Anniversary Ceremony & Celebration. "We were so pleased to welcome back nearly forty of our Hall of Fame Inductees from previous classes who joined us to celebrate our 10th Anniversary. People tell us they love this event and come back year after year because they get to meet their childhood heroes. It really is a memorable night not only for the current inductees, but for everyone who attends," said Sheila Fox, Executive Director.