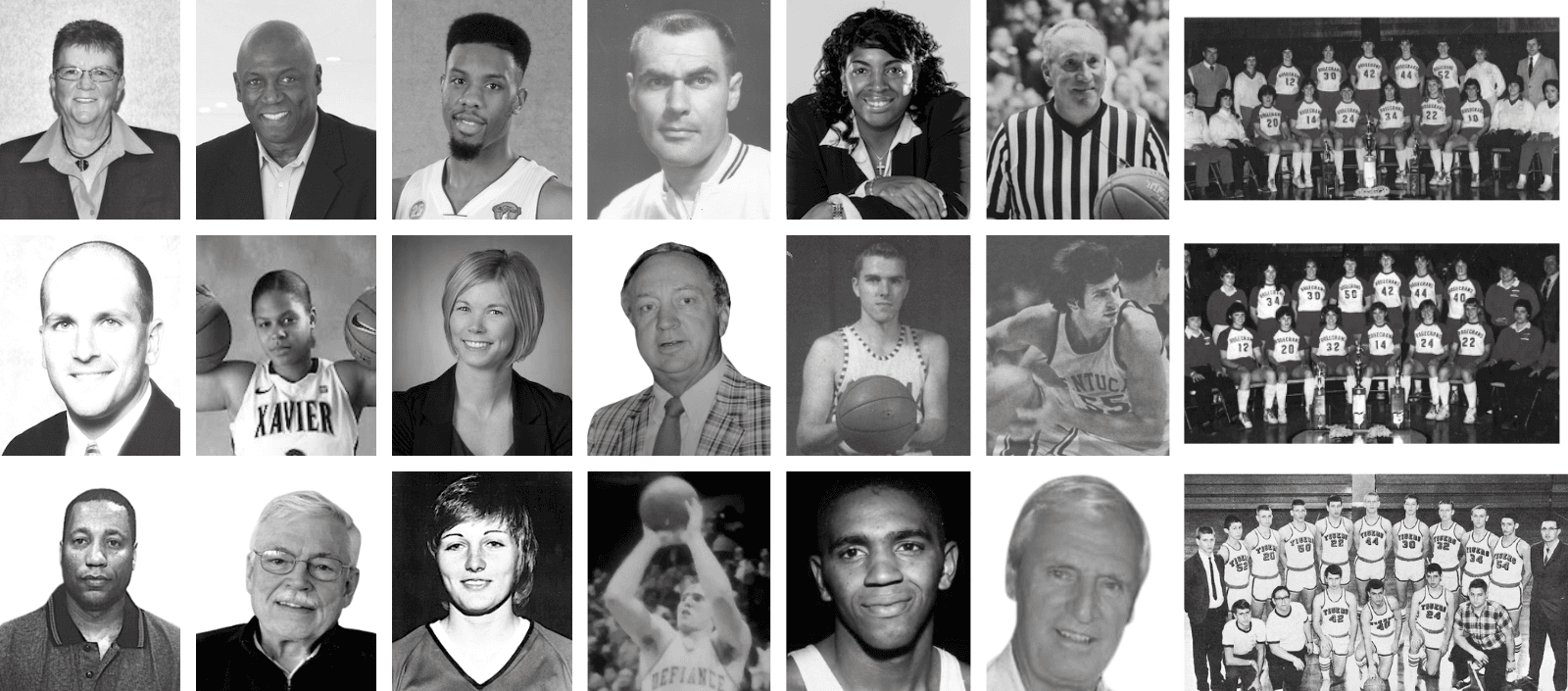 COLUMBUS – Eighteen outstanding athletes, coaches and contributors will enter the Ohio Basketball Hall of Fame this summer, along with three outstanding high school state championship teams. The 2023 Class will be enshrined on June 10 in Columbus. The ceremony will be held at 4 p.m. at the Hilton Polaris, 8700 Lyra Dr, Columbus, Ohio 43240.
This year's class showcases the impact 2016 Inductee Charlie Huggins has had on basketball in Ohio. His assistant coach at Berlin Hiland, the late Perry Reese Jr., enters the Hall, as does his 1967 state champion Strasburg Tigers team.
Class of 2023
The following 18 individuals will be inducted into the Class of 2023:
Three teams will also be recognized for their achievements: The 1967 Strasburg High School boys state champions, coached by 2016 Inductee Charlie Huggins, and the 1982 & 1983 Zanesville Bishop Rosecrans High School girls state champions, coached by Dave Bell.
"We're excited to celebrate another class of tremendous athletes, coaches and contributors in 2023," said Executive Director Sheila Fox. "We rely on our champions and fans to support us financially and remind us of the greatest players and coaches from their communities that have made their mark on Ohio basketball. We're working to preserve this fascinating history for future generations." 
To purchase tickets, read the official bios of each inductee and for more information, visit the Ceremony section of our website.
 
###

Background: Founded in 2005, the Ohio Basketball Hall of Fame recognizes the remarkable achievements of both male and female athletes across high school, college, and professional basketball – along with phenomenal coaches and individuals who've impacted the game along the way. Together with a dedicated collection of coaches and basketball enthusiasts, Doc Daugherty and the late Don Henderson led the charge to establish the Ohio Basketball Hall of Fame with a mission of preserving legacies, celebrating greatness, and honoring excellence. Our annual Induction Ceremony, hosted in Columbus, celebrates basketball and its rich legacy. The list of charter members of the Ohio Basketball Hall of Fame reads like a Who's Who of some of the sport's most recognizable figures – Wayne Embry, Jerry Lucas, Katie Smith, Jimmy Jackson, Oscar Robertson, Clark Kellogg, Bill Hosket Jr., Fred Taylor, Paul Walker, Jay Burson, John Havlicek, Bob Knight, Nate Thurmond, et al.